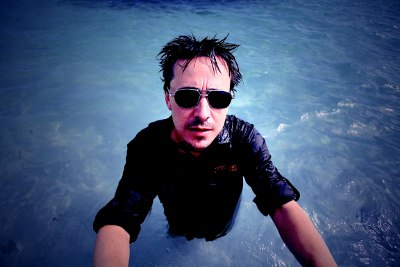 (photo credit: www.iliaphotography.com)
In the weeks (well, at this point I guess I could say "months" although it doesn't feel like it) that I've been back in Ontario, I've had a number of encounters with things that were once regular parts of my life before my near-decade out East, and some have been shocking and jarring, others kind of like the sensation of something slipping back into the place where it belongs.
Nothing has hit that feel as hard as this past Saturday, though, when Trish and I went to see Danny Michel do the first of three sold-out nights at the Jane Bond.
I've mentioned Danny here a lot before, so I won't go into it at length, but let me just say that listening to the show, in the room (which frankly doesn't appear to have changed substantially in the last ten years from a patron's perspective), both seemed just right, and like all the years hadn't passed.
Trish actually used the fact that I would be able to see Danny play a lot more often in Ontario than the once-a-year or so he came out to Halifax as part of her psychological campaign to help me adjust to the move. It was probably one of the strongest weapons in her arsenal. This weekend's show was certainly the beginning of me going back to seeing Danny play every reasonable chance I get.
Lest you get the impression that Danny isn't improving in his craft, by the way, let me put that aside–it definitely isn't the same show I used to see, Danny only gets better. I've seen a lot of live music, but I've never seen a solo performer who could touch Danny live–I've seen a few who could hold a room like Danny can, but none whose overall performance is as compelling, or as fun.
Danny was debuting eight completely new tracks at the show, which was great–I love to hear new stuff mixed in with the things I know, and I like to track the development of songs by artists I like, when I can, and the changes and development are often most pronounced in the "early life" of a song. (In Danny's case, since I've been seeing him live since before any albums he admits to were recorded, I've had the chance to watch a lot of songs evolve over time.)
Three of the new songs hit me right away–one about the question of who would really miss you if you left, one about a guy who runs a joint in the islands, and one about a letter written by the younger self to the older–but history suggests that it's the ones that are less accessible that will end up being favourites longer term.
Almost all of the new stuff had a pretty clear Paul Simon influence, which Trish and I were commenting on, before Danny made a joke about it from the stage.
You can, by the way, see a fraction1 of what I mean, since Danny just released a new live CD. You can see the cover and hear a bit at Danny's site. The physical ones can be had from Danny for $15 via mail order, but for you children of the digital age, the album (and all his others) can be had for less money on iTunes and Zunior (particularly notable for having loseless FLAC versions of the albums for DL). Buy the music–support independent artists!
I say that you can use that album to see "a fraction" of what I mean though, because while the music sounds great, without the ability to see it's just not the same thing as a live show. If you get the chance, see him live–it's a whole different thing.(back)