A very full day of meetings today, ending with a relatively late working dinner, cut short my beer exploration time tonight.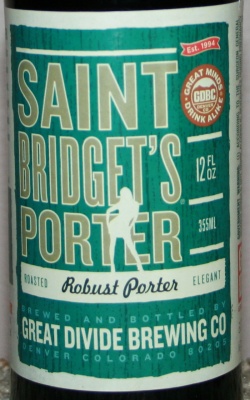 So I only had time to explore one small beer: Saint Bridget's Porter from the Great Divide Brewing Company.
While the bottle describes this as a "Robust Porter" I didn't find it particularly overwhelming in terms of robustness. That might possibly be because it was too cold when I drank it–the flavour profile did noticeably expand as I worked through the glass. In any case, regardless of how "robust" it is, it certainly tastes good. Bitter at first, with noticeable coffee notes, and then smooth through to a sweet chocolately finish that lingers for quite a while fading back into a very persistent mid-tongue bitterness. Not too heavy–I could see myself drinking a number of these in a sitting. If it were just slightly less better at the start I think it would have beaten out yesterday's selection, but as it is it comes a close second.
It does, though have a much better story to go along with it.
Probably the best known Irish saint after Patrick is Saint Brigid (b. 457, d. 525). Known as "the Mary of the Gael," Brigid founded the monastery of Kildare and was known for spirituality, charity, and compassion. St. Brigid also was a generous, beer-loving woman. She worked in a leper colony which found itself without beer, "For when the lepers she nursed implored her for beer, and there was none to be had, she changed the water, which was used for the bath, into an excellent beer, by the sheer strength of her blessing and dealt it out to the thirsty in plenty." Brigid is said to have changed her dirty bathwater into beer so that visiting clerics would have something to drink. Obviously this trait would endear her to many a beer lover. She also is reputed to have supplied beer out of one barrel to eighteen churches, which sufficed from Maundy Thursday to the end of paschal time. A poem attributed to Brigid in the Brussel's library begins with the lines "I should like a great lake of ale, for the King of the Kings. I should like the family of Heaven to be drinking it through time eternal."
That's from the Saints of Suds article at BeerHistory.com–which is contains a lot more things worth reading, besides that little story.
One does wonder, though, what the silhouette on the label has to do with an Irish saint…