As is my wont when attending days of endless meetings in the "Boston" office, I've made a trip to see Julio and stock up the fridge for an exploration of some interesting looking beers that I haven't tried before.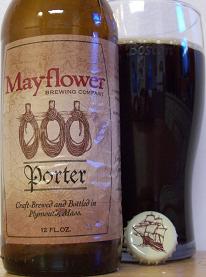 After today's marathon meeting session I retired to the hotel and sampled my first selection: Mayflower Porter, from right here in Boston. I hadn't seen it before–perhaps no surprise given that it's only been in bottles since June of last year–but it had the twin appeals of being both a porter I hadn't tried, and a "local" selection.
I admit that I had a nice setting for drinking the beer–my first minute of relaxation after a long day, accompanied by a nicely chilled honeycrisp apple, and some Maytag Blue raw milk cheese on 34º Sesame Crispbread. (Yes, I am on expenses, and yes, I had a chance to stock the fridge in my suite yesterday.)
So maybe it was a case of the thirst equivalent of "hunger is the best sauce", and maybe it was highly enhanced by the setting and the accompaniments, but damn, that was a good beer. All the porter flavours I love, in balance, without being too bitter or too heavy. I'll be getting a six of that to take home with me I think.

After that short interlude of calm epicurean relaxation, I took some of my Australian counterparts into town for beers and dinner at the Sunset. I had the fun of exposing someone to the Dogfish Head 120 minute IPA, and got my interest in Black Orchard piqued. My personal drinking was dominated by the Bear Republic Hop Rod Rye–it's quite a large bottle, and not something that can be quaffed.
The brewery says:
The first American rye to be produced, Hop Rod Rye is a high performance, turbo charged, alcohol burnin' monster ale with dual overhead hop injection that revs out the hop-o-meter at over 90 IBUs. For all that, a good dose of rye and caramel malts ensures a sturdy chassis to carry all that flavor. The rye malt adds a spicy grain character that takes this beer to the winner's circle!
but my experience was that the rye notes were totally dominated by the extreme load of hops–I mean it's no 120 minutes, but still it was hops overriding everything else in there. Not something I would order again.
I have 11 more interesting stouts and porters in the fridge for me to explore over the rest of the week–although I will probably not get through them all and end up taking some back home.