I've made no secret of the fact that Eddie Campbell is one of my favourite comic creators—not to mention one of the top five living people I'd want to spend a night drinking and talking BS with—and that I think Alan Moore is probably the best comic writer to have yet lived.
So it's probably not surprising that I'm a pretty big fan of their major collaboration, a book that's often referred to as the apotheosis of the graphic novel, From Hell.
While the book was originally serialized, once the collected edition appeared, it became what we mean when we say "From Hell". The first several editions of the collected form were published by Campbell himself. Moore's bibliography lists these:
From Eddie Campbell Comics:

FROM HELL (TPB) – Art: Eddie Campbell – 1999
(Note: Trade paperback compilation of the entire epic)

FROM HELL S/N EDITION – Art: Eddie Campbell – 2000
(Note: The hardcover was held to a signed and limited edition of one thousand; Co-produced by Graphitti Designs)

FROM HELL PAINFULLY LIMITED – Art: Eddie Campbell – 2002
(Note: Only 19 copies of this edition exist, each one created personally by Campbell. The book comes in a clothbound clamshell case with a black kangaroo leather cover and an original color painting by Campbell inside the front cover.)
(There have since been other trade editions from Top Shelf.)
Anyway, I got the collected edition as soon as it appeared–the serialization occurred mostly during one of the periods I was "out of comics". Shortly after I moved to Halifax, I was able to lay my hands on one of the 1000 signed and numbered copies, which became one of the prides of my Alan Moore shelf.
However, this week has made that copy somewhat obsolete, as I have managed to acquire one of the Holy Grails of the Eddie Campbell fan, one of the 19 "Painfully Limited" editions. Actually, it's #1 of 19, for that little extra bit of appeal to the kind of crazy person who cares about such things.
I took some quite snaps so that I could show it off a little. Here's what that clamshell case looks like (with a CD for scale):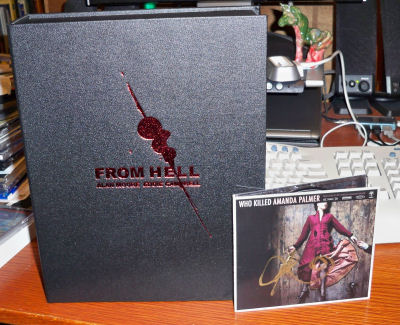 When you open it, you see this: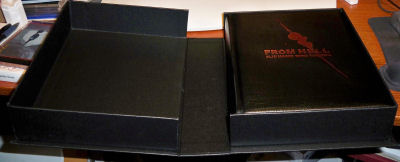 Here's the cover of the book: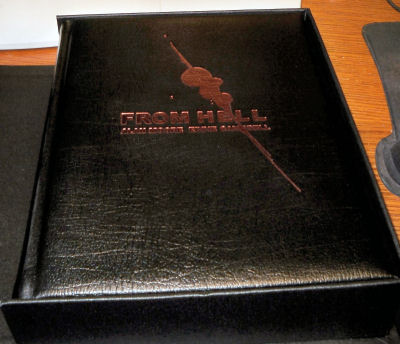 Check out the grain on that kangaroo leather: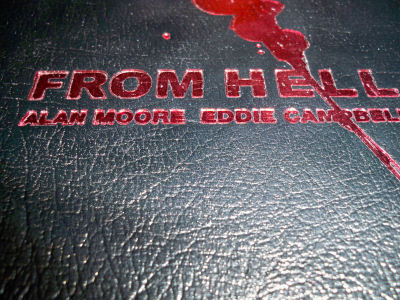 It's thick leather, too: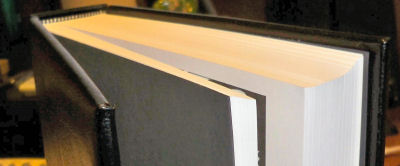 Here's the signature page, including the original Campbell painting: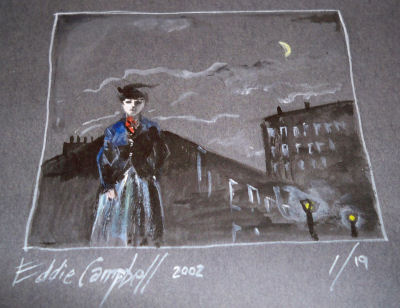 And here's the little note on the indicia page: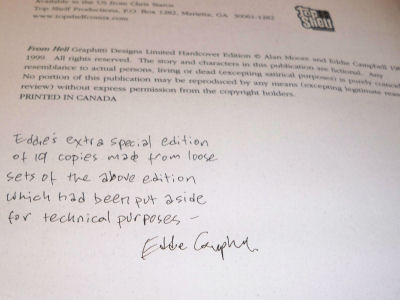 Now I have a new, probably impossible, mission: I need to get the Mage of Northampton to sign this book as well.