When asked about my home town, I usually reply with one of two quips. Either "it's a great place to be from" or "it may be smallish, but it has a high character ratio". That second line which inevitably leads into discussions of the various people that are "real characters" that everyone in the conversation has known, or heard of.
Well, my hometown may have had more than its fair share of characters, but the Internet regularly brings me information about characters that make Shazam and the blissed out Acid King of Leeroy's look like tax accountants.
Which brings us to Eldridge Cleaver.
I'm not going to write a biography of the man here–you can start with the Wikipedia entry and work outward from there–but I should hit some of the high points:
High profile activist with the Black Panthers, including time as their Minister of Information
Published a book of essays (while in prison) which "was influential in the black power movement and now widely considered a classic"
Admitted to being a rapist, but described it as "an insurrectionary act"
Presidential candidate
Kidnapped Timothy Leary
Fugitive expatriate existence in Algiera, Cuba, and France–financed by the North Vietnamese–ending when he could no longer control the fugitive community that grew up around him
Became a born-again Christian, founded the Cleaver Crusade for Christ, later created Christlam (a combination of Christianity and Islam), later a Moonie, and still later a Mormon (until his death)
Spent some time as a fashion designer (on which more later)
By the 1980s he was a Republican, and endorsed Regan
Spent some time as a tree surgeon
Tried (and failed) to get the Republican nomination to run for a California senate seat
In the late 80s, became a crack addict
Convicted in the early 90s of some drug-related felonies
Kicked his addiction in 1994, after a near death experience
Became a popular talk radio host in Florida
Taught at a bible college in Miami
Became active in anti-addiction campaigning, including using nutrition as a weapon
Robert Fulford wrote a short piece on him in the Globe on the occasion of the reissue of Cleaver's early book. It includes this bit:
Cleaver was a man of infinite delusions, a tragic figure when he was not a clown. He believed he was shaping the world around him, but in truth he was the creation of that world, the projection of its perverse fantasies. His dreams of power, invented under the pressure of racism and poverty, played into the hopes of New Left radicals, who saw him as an instrument of revolution. There was madness at the heart of his belief in armed struggle as a way to achieve racial justice.

In retrospect, he found it horrifying. As he said in a 1998 television interview, "If people had listened to . . . me in the 1960s, there would have been a holocaust in this country."
Now, as mentioned above, I just want to take a moment to focus on Cleaver the fashion designer, or "Eldridge de Paris". This might be the most unbelievable part of the story. (I AM NOT MAKING THIS UP.) Seeing this magazine page is what actually started me reading about Cleaver this week: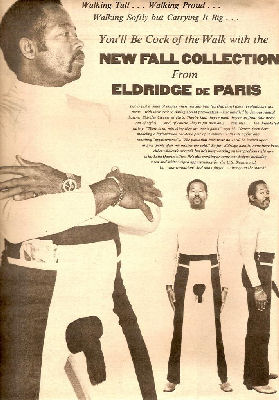 Here's the text, in case you had any trouble reading it, or don't want to click for the larger image:
Life is just a chain of daisies when you slip into (careful, now) these revolutionary hot pants—with their ever-so-daring accent provocateur—just unveiled by famous radical designer Eldridge Cleaver of Paris. They're bad, they're mad, they're up front (but never out of sight)… and, of course, they're for men only… real men… the three-fisted variety. "There is no mistaking they are men's pants," says M. Cleaver (seen here modeling a high-waisted two-tone pair of "Cleavers" with side zipper and matching "appurtenance"). "The pants that men wear now will be looked upon as girls' pants after my models are sold." So far, Eldridge admits, none have been, either wholesale or retail, but he's busy working on that problem right now in his Latin Quarter office. He's also working on some new designs, including a red-and-white-striped appurtenance for the U.S. Bicentennial. Up your revolution! And don't forget… heavy on the starch!
I, apparently am not a real man–at least not "the three-fisted variety", since I'm still wearing "girls' pants".
In case you think these pants were a joke, allow me to quote a section from a three–part interview (from 1982) with Cleaver at Undercover Black Man (actually, reading the whole interview is recommended), wherein he reveals that his fashion plan involved stealing fashion back from the evil homosexuals:
MILLS: A few years ago, you were in the news for designing pants for men with a pouch in front to contain the genitals. Whatever became of those pants?

CLEAVER: As far as a business venture? I'm not a businessman so I wasn't able to do any spectacular business. I lost money. But from an aesthetic point of view, from the point of view of clothing, I think this whole thing has been misunderstood.

My design had to do with an argument against what's being done with our clothing. Who controls our clothing? If you notice, the clothing industry is dominated by homosexuals. They want men and women to look basically the same.

There are a lot of problems involved in the design of men's clothing. The way our clothing is designed right now requires a man to wear his genitals in either his right or his left pants leg. There are a lot of implications to that. Scientifically, it's been determined that that structure generates a lot of heat that has a decomposing effect on sperm. There's a whole warping effect that comes from wearing your genitals in your pants leg.

There's a lot of evil in society that comes from clothing. Most of us are completely ignorant of this. One of the things that distinguishes us from animals is that we have the control of our second skin. This is a great power, because we can go underwater, we can go to the moon, we can go to the desert, to Alaska, because we just don't have scales or hair. We have a technology where we manage our second skin.

This is a sacred responsibility, yet like many other things it is dealt with frivolously. And one of the most obnoxious things that is happening today is what the homosexuals are doing to our clothing.

If you view your pants as an extension of the fig leaf – which is what clothing really is, symbolically speaking – you begin to see that this is very intimately connected with the whole condition of man in the world. Scripturally, the fig leaf came about as a fallout from the fall of man. And I think from that point on, we've made a lot of trouble for ourselves by the way we handle our clothing.
Yeah, that's pretty crazy. The homeless guy who sees the Red Goblin just doesn't compare.