A couple of weeks back when Trish had her birthday, Sarah and I spent an afternoon making her a birthday cake. From scratch. That's right–no mixes for us. If you've ever baked with a 3-year old, you will know that this can be terribly fun, if a bit messy.
The cake that we made was pretty damned tasty, although possibly not a delight to look at. Judge for yourselves: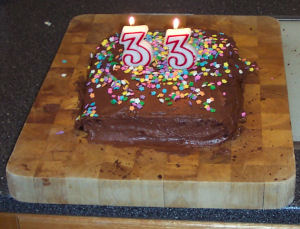 During the icing process I asked Sarah to put on the sprinkles. I glanced away at the clock for a moment, and when I turned back, she had essentially upturned the sprinkle container onto the cake–this was not an accident or motor skills issue, but rather a conscious decision of the "if some sprinkles are good, then lots of sprinkles must be better" variety.
Anyway, despite how it looks, it was pretty good, so here's a recipe for those of you who feel like having a rich chocolate cake that's not overly sweet.
Sour Cream Chocolate Cake
Ingredients:
1 1/2 cups all-purpose flour
3/4 cup unsweetened cocoa powder (not Dutch process)
1 1/2 teaspoons baking powder
3/4 teaspoon baking soda
1/2 teaspoon salt
1 cup sour cream
1/3 cup water
2 teaspoons vanilla
2 sticks (1 cup) unsalted butter, softened
1 1/3 cups firmly packed light brown sugar
3 large eggs
Instructions:
Preheat oven to 175C (that's 350°F for the backwards folk). Grease and flour either two 9-inch1 round cake pans (if you want to go to the trouble of making a layer cake), or else one 9 x 13 pan if you're a Dad doing special occasion baking. Knock out any excess flour.
Into a bowl sift together flour, cocoa powder, baking powder, baking soda, and salt. This is a fine task for a three-year old, since their attention to detail will result in a much more finely sifted final product than most Dads could produce. In a small bowl whisk together sour cream, water, and vanilla. A three-year old can also do this, if you mess tolerance is high.
In a large bowl with an electric mixer beat together butter and sugar until light and fluffy. The key here is to have butter that's not iron hard before you start–this is nigh impossible in our house in the winter, but should be easier for people in milder climates, or who are less environmental/economical about their thermostat settings. Beat in eggs, 1 at a time, beating well after each addition.
Add flour mixture to butter mixture in batches alternately with sour cream mixture, beginning and ending with flour mixture and beating until batter is blended well. You may want to lose the three-year old during this step if you have an old, kind of loud, electric mixer, since this will be noisy for a decent amount of time.
Divide batter between prepared pans if you're using two, or just dump it in if you're using one, and smooth tops. Top smoothing is a good three-year old activity, but be prepared for it to take some time, as children occasionally go quite perfectionist over some odd things. Bake in middle of oven 25 to 30 minutes, or until a tester comes out clean. If you're doing a single pan it might take a little longer–be sure to test in the center of the pna. Cool cake in pan(s) on racks 10 minutes before turning out onto racks to cool completely.
If you're feeling fancy, make some icing. Alternately, since you have the virtue of having made the cake from scratch, you can justify using some store-bought icing. Either way, cover the cake with the icing (if you did layers, then make a layer cake–duh). While icing spreading might seem like a good candidate for a child activity, it is actually not recommended, unless you want the icing to be completely full of crumbs. Having the child do sprinkles or some other ornamentation is a good plan, but will probably end with a result… well, something like the one above.
I know, I know, but no one has 22.9cm pans.(back)