So, last night was likely my last time as a regular attendee of the Halifax Gentlemen's Poker Association's weekly meetings. Since I've been pretty consistent about attending these for several years now–I think the first one I went to was just before Sarah was born, as I recall making jokes about having to leave suddenly to rush to the hospital, so that's around six years of meetings–this is going to represent a significant change in my week. Of course commuting around 2000km for the games isn't really an option, hence this being my final regular game. (I say "regular game" since there is a non-zero chance that should I be in Halifax again later in my life, that I will drop in on a meeting.)
The lads made quite a night of it, with a series of surprises and parting gifts that would have brought a tear to the eye of a weaker man.
Things started out as normal, albeit with perhaps a slightly larger than usual attendance, and several rounds of cards were played. Things started to go crazy at the first break of the evening, when our host suddenly appeared with a veritable smörgåsbord of fine cheeses and high-end deli meats, on which we apparently to gorge ourselves, in honour of, well, me. I recall at least St. Agur blue, a double cream brie, a jarlsberg, Applewood smoked cheddar, Guinness/porter cheddars, limburger, the bellavita raspberry, and something utterly wonderful that I wasn't familiar with that was referred to as "the Carleton". I may be forgetting one–I'll know when I see the photos of the groaning boards later. I spent less time with the meat tray, but it was covered with thinly sliced European deli meats, prosciutto and the like, and accompanied by a couple of different kinds of pepperoni.
I was surprised and pleased by this presentation, and everyone probably ate more meat & cheese than was strictly speaking healthy.
If that had been all, it would have been a generous and unexpected send-off… but that was just the beginning.
Later in the night was the presentation of a special "Lifetime Membership" certificate, accompanied by a bottle of my favourite Speyside Scotch. Check it out: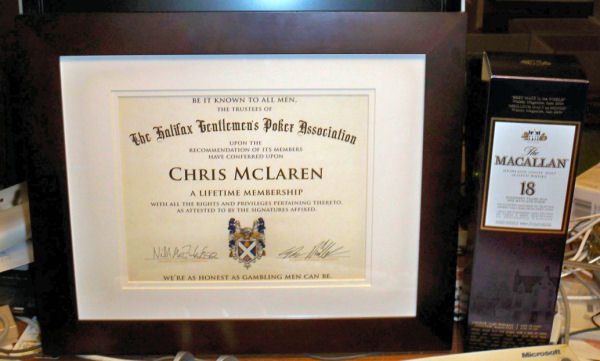 That crest, by the way, is one I made up when we first started ironically referring to our sketchy weekly games as meetings of the HGPA, and which I integrated into my fictitious history of the association. The slogan (which you can also see up at the top of this blog page under the title) is a variant on a lyrics from Me & My Uncle, by the way. We've used it for a number of things over the years, with my previous favourite being the custom stein I had made a couple of years ago.
The boys weren't done yet though, as they went my stein one farther, presenting me with a set of eight engraved tumblers. Here's one: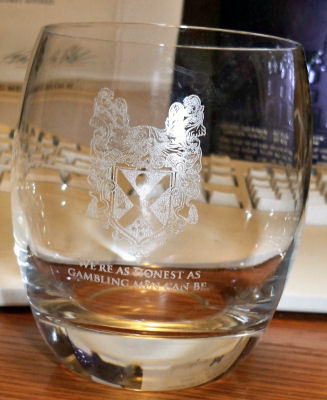 I think we can agree that the boys really went all out here, giving me an epic send-off. This, of course, doesn't make it easier for me to leave Halifax, but I guess I can take some solace in the immortal words of Dr. Seuss. Which isn't to say that a few weeks from now you might find me spending Tuesday night sitting alone in my new basement, drinking fine scotch out of lovely tumblers and missing the hell out my guys.