There was, as you may have noted, no Day 7. Last night I didn't get to explore any of my stash, since I dined with a friend, and he provided me with samples of Dragonslayer Imperial Stout from Middle Ages Brewing Company, Saranac's Black & Tan, and Dogfish Head's Palo Santo Marron–it was kind of an east coast night, with two New York beers, and a Delware one. All three were quite good, and I would gladly drink any of them again, but my memory is no longer good enough to allow me to write up any details about them.

Tonight, though, I went back into the stock to do some more exploring. And tragedy struck.
The name of the tragedy was Rip Tide Twisted Merciless Stout, from Brew Dog.
I was sucked in by the label text, I admit:
Conceited, Lurking, Tormenting, under the cursed shadows and flow.

Creaking, twisting, haunting, wherever it may go.

Conspiring, plaguing, besetting, deep under an eerie sea.

Trapping, captivating, bewitching, they have no chance to flee.

The undercurrent's intensity rises, you can't evade this nightmare.

Be valiant, be steadfast be ready, try another sip if you dare….

Serving Suggestion: Pour into a glass and enjoy with an air of aristocratic nonchalance. effortless.
Yes, I was marketed to.
However, all that beer had going for it was the label. I couldn't even finish the first glass, much less the whole bottle. And this from a man who can drink warm, flat, Molson Stock Ale.
The less said about it, the better.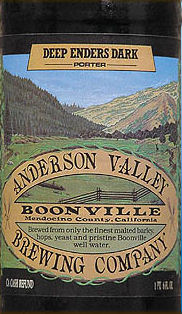 I washed that down with some Deep Enders Dark Porter from the Anderson Valley Brewing Company. This was cheating a bit, since unlike the others in the series, I have had this one before, and I knew that I liked it. I'm not crazy about it, but it's a solid, dependable porter, and I wanted to have one reliable selection in stock just in case I hit a tragedy.
And it was reliable. Quite good, quite filling, and could probably power a London street porter if necessary. I may bring a couple of these home with me.