Today's work session ends and I jump into my car and drive to the Whole Foods to pick up some fruit, both because I need fresh fruit every day or I go weird, and because I have plans for doing some fruit-themed explorations in my hotel fridge.
When I get back to the hotel, I eat a bunch of fresh pineapple–almost too ripe and sweet, but with that astringency that you only get from freshly cut pineapple.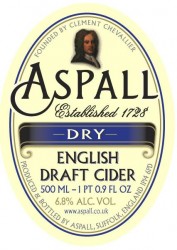 And then I open a bottle of Aspall Dry English Draft Cider. Well, that's what it says on the bottle I have here, but apparently its proper name, in its home country, is Aspall Draught Suffolk Cyder. I'm enough of a pedant to prefer the "Draught" spelling, but I admit that "Cyder" just looks silly to me.
Regardless of what it says on the label, what's inside the bottle is all good by me. I like a dry cider that doesn't sacrifice the taste of fruit along with sweetness, and this is definitely one of those. Clear, crisp, dry, and delicious right out of the fridge. It's kind of the opposite of some of the dark beers I usually drink, but sometimes you want something different. It didn't knock Archibald's Hard Cider off the top of my list, but it's drier than that, and so targeted at different situations. It certainly followed the fresh pineapples very nicely.
This is also one that I might pick up a couple of bottles of, for return to the homeland.
Later in the evening, after I've had a chance to listen to the new albums (Dave Van Ronk, The Dresden Dolls, Randy Newman, Ron Carter, and Sonny Rollins, thanks for asking), and eat some dinner, it's time to go back to the dark beers.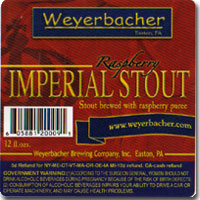 I've got some lovely brown turkey figs in the fridge that I can pull out, and a bottle of Weyerbacher's Raspberry Imperial Stout.
The figs are perfectly ripe, but oddly not as sweet as I expected. The beer is fine, but not outstanding.
While I can smell the raspberry, I can't taste it at first. In fact, the first impression of the beer is that it taste more like a low alcohol milk stout than like an 8% imperial. The immediate top-of-mouth aftertaste is all milk. It's very, very quaffable–the mouth impression is very light for a stout, especially an imperial one, with no detectable bitterness, and hops almost missing entirely. I could drink this stuff like Stella.
After a few mouthfuls, I start to be able to find the raspberry in the aftertaste. It comes late, after the milk taste finishes, lingering on the center of the tongue. It's subtle. This is not Framboise.
I'll be honest: this is an easy drinking beer, but it's not what I'm looking for in an imperial stout. I want something heavier in the mouth, something that feels "thicker" and "fuller". The raspberry doesn't bring a lot to the table, and the whole "this reminds me of milk" thing kind of freaks me out.
I'm not really thrilled with the figs either. I'll get mission next time.