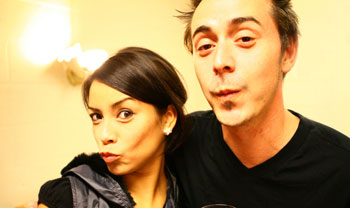 Remember back in May 2007 when I mentioned my pal, musical genius Danny Michel was planning to co-host a radio show for the CBC with his pal Emm Gryner? (If you don't remember, click back and refresh your memory)
Well the pilot for that program aired quite a while ago, but it did get picked up, and Danny and Emm did record a season of the show.
… and it started yesterday.
Yeah, if you didn't already know this, you already missed one airing–fortunately, that was just the pilot airing again. And I happen to have the pilot captured here for anyone who was interested (this is actually from the airing last May, but I think what played yesterday was identical.)
You can stream it here:or just download a relatively low quality version for play elsewhere (I've got a better copy here, but it's A LOT bigger, and this is as good as radio anyway.)
Under The Covers – Episode 1 (Pilot)
The show has its own section at the CBC's site, including an episode guide that has lots of interesting details about upcoming shows. Some bits that grab me:
Cover songs have a long and storied history in North America, but they were also used as tools to perpetuate racism and segregation – find out why Elvis Presley's career owed more to black R&B artists than his swivelling hips.
All that and an email from David Bowie, who finally reveals what he thinks of Danny's countrified cover of Young Americans.
Have you ever listened to a song your whole life, and then discovered it's actually a COVER?
And now, an added bonus for people who read this far: some Danny Michel performances!
First up, a live performance of Danny's fever dream lucha libre tune, "14 Masks Of Danger", from the new album:
And then for a closer, Danny closing a show with "I'm 'a Love You Anyway":