More boxes of books repacked, with similar results: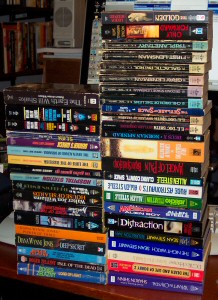 Same rules as last time (and some of those are still available for another week as well). Whatever is not claimed by mid-July will go some other way. I'm leaning toward donating them to the hospital library at this point. Post your requests, don't email me–that way I won't forget what you wanted and everyone can see what's already gone.
This time the list is:
Robert Anton Wilson's Historical Illuminatus Chronicles – Less fun than the Chronicles, but perhaps the most linear of Wilson's fictions. Worth the read just for the Paris/mistress joke
A. E. Van Vogt's Slan – I enjoyed this book a lot when I read it as a teen. I can't enjoy it anymore because I have severe cognitive dissonance these days when the title makes me think of a certain kind of person with a "fans are Slans" button and a propeller beanie
Denner's Wreck by Lawrence Watt-Evans – It's no Lord of Light, but it's a readable slim novel
The first two Lords of Dûs books by Lawrence Watt-Evans – This was definitely one of the first pure fantasy series that I read when I started on "proper" novels (as oppposed to "kids" books like the L'Engle stuff), and I have no idea how it will read now. I had to get the Wildside omnibus for sentimental reasons, and now I'm kind of scared to read it
The first Sector General book, and a collection of short stories, by James White – I love that the SFBC did Sector General omnibi, and I worry that recent changes there will mean this kind of thing stops happening
The first two Drake Maijstral books by Walter Jon Williams – When the author himself classifies novels as 'divertimenti' you know you aren't in for a Big Serious read–accept that and enjoy a really great romp with an Allowed Burglar in a future aristocracy, and don't miss the scathing criticism of celebrity-for-its-own-sake
Voice Of The Whirlwind by Walter Jon Williams – Hardwired was a big deal to me when I read it as a teenager, so naturally I sought out the "kind of" sequel
Facets, a short story collection by Walter Jon Williams – I really like Williams. A lot.
Diana Wynne Jones' Deep Secret – Afraid to read Diana because her stuff is usually in the kids section? Try this packaged-for-grownups multiple-worlds fantasy as a way to get over your YA phobia.
Diana Wynne Jones' Power Of Three – …then try this straight up YA work
Lord of Light by Roger Zelanzy – Surely one of the ten finest science fiction novels of all time
Isle Of The Dead by Roger Zelazny – Another damn fine novel
The Doors Of His Face, The Lamps Of His Mouth, a short story collection by Roger Zelazny
The Golden by Lucius Shepard – Possibly my favourite vampire novel whose title is not also a punchline to that lame door joke
Only Forward by Michael Marshall Smith – This is a novel for people who like mad ideas and don't mind a gear shift in mid-story (if, for example, you hated it when From Dusk Til Dawn switched from a road movie into a vampire movie, this is not the book for you, although it is neither contemporary nor about vampires)
The entire Lensman series by E. E. "Doc" Smith – Bless the SFBC for putting this Old Skool pulp, perhaps the sine qua non of all Space Opera, into omnibi
Three Skylark books by E. E. "Doc" Smith – ditto, except with less excitement
Angel of Pain and The Carnival of Destruction by Brian Stableford – For the record, these two, and the predecessor Werewolves of London, were both not at all what I expected based on the titles, and were much better books than I expected–Fin-de-siècle-extended-to-the-end-of-the-WWI-era intellectual horror with no hint of Warren Zevon
Two short story collections by Allen Steele – Steele's first book about Deadhead construction workers in orbit (and the NSA spying on us) pretty much made me a long term fan. His stories are pretty fine for the most part
The Jericho Iteration by Allen Steele – Steele's crack at the near future disaster novel
Clarke County, Space by Allen Steele – if a novel with a Sheriff in a space colony, an assassin, and the joys of the Church of Elvis, sounds like it might be up your alley, the pick this one up
Distraction by Bruce Sterling – every time I read a Bruce Sterling novel it's better than I expected it to be, even when I take into account this phenomenon
Resurrection Man by Sean Stewart – an excellent contemporary fantasy
Night Watch by Sean Stewart – one of my personal ten favourite fantasy novels–among other things it exactly captures the differences between the essences of two major Canadian cities
Leave It To Psmith by P. G. Wodehouse – I don't have to explain this do I?
The Death And Life of Bobby Z by Don Winslow – a fun, straight up caper story; I hear they're making a movie
Wrapt In Crystal by Sharon Shinn – a science fiction murder mystery that works on issues about religion
Related Reading: All Those Books and this NYT article that Gwenda pointed out.