So, I have 12 boxes of paperback books in my back room, that I haven't unpacked in the six years since the move. The primary reason here is that I've never built enough shelving to catch up to my hardcover books, and thus have never had shelving for the paperbacks. Well, OK, the primary reason is that I am World Class Lazy, but let's not get into that.
After this much time I occasionally worry that some terrible thing might have happened to the books I haven't unpacked. So I've recently decided to buy some plastic packing cases, and move the books from the cardboard UHaul 2-cubes they've been in for six year into the plastic cases. I'll be less worried with the books in the plastic, and it will give me a chance to reorganize the back room, so I can get around to putting some shelves in there.
So last night I moved over 4 of the boxes. It was an interesting experience. I have a few paperbacks I had forgotten I owned, but many, many more that each brought back very powerful memories of where and when I got them or read them, etc.
I also found that there were a large number of paperbacks that I didn't need to keep anymore, for one reason or another. In the vast majority of cases the reason was "I've added a hardcover/trade paper copy to my collection in the intervening years", but sometimes it's just "I don't want this anymore".
So, while I was repacking these four boxes I culled these books from the boxes, as I don't need them in the collection anymore: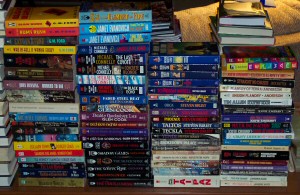 Most of those are in perfect condition, the ones I bought new, with 8 or 10 exceptions; the ones I didn't buy new. I figure I'll probably get two more sets this size that I can also get rid of when I get around to moving over the rest of the books.
So, the question is: what do I do with these?
I could just take them to a used shop and get money or credit, but I figure before I do that I should give my friends, and online acquaintances, a shot at them.
So here's the deal: if you want any of the items on the list below, post a comment saying which item or items (note to George: don't say "I'll take them all") and why you want them. If your why is more interesting than "hey, free book", I send them to you. I'll keep the lists updated as items are claimed. For people in North America, I'll eat the cost of mailing them. If anyone further distant wants some, you can PayPal me the postage costs. I will email you at the address you use to comment to get your physical address if I don't already have it. Post your requests, don't email me–that way I won't forget what you wanted and everyone can see what's already gone.
Whatever doesn't get claimed by the end of June will go to the local used book shop.
Here's the list:
The first four Leo Waterman mysteries by G. M. Ford – nice, light mysteries
The Name Of The Rose by Umberto Eco – brilliant
The first two Cliff Janeway mysteries by John Dunning – as a book guy, I really liked these mysteries centering on a cop-turned-bookseller
Two of the D'Artagnan Romances from Dumas Pere
The first Goodfellowe book by Michael Dobbs
Do Androids Dream Of Electric Sheep by Philip K. Dick – the novel that Blade Runner was based on
Two early Childe Cycle books by Gordon Dickson
The first three Elvis Cole mysteries by Robert Crais – these are lighter, occasionally zany, books compared to the more noirish (and frankly better) stuff that Crais later settles into
Tom DeHaven's Chronicles Of The King's Tramp
Two early Stephanie Plum books by Janet Evanovich – while I know a lot of people like these, they just didn't work for me
The first fiveBooks 3-5 in the Harry Bosch mysteries by Michael Connelly – you can't say you know anything about the modern mystery genre if you haven't read Connelly
Books 4-9 of Glen Cook's Garret, P.I. series – I really enjoyed this fantasy/PI/Viet Nam mashup, at least I did until the UFOs showed up
The Black Company Books Of The North series, The Black Company Books Of The South series, and The Silver Spike, all by Glen Cook – a fantasy series where the mercenaries felt like mercernaries even while the epic stuff was happening around them
Books 2-7 of Steven Brust's Vlad Taltos novels – I'm glad to finally have all of these in hardcover, and even after many years of Vlad I'm still looking forward to the next one
Brokedown Palace, Cowboy Feng's Space Bar And Grill, and To Reign In Hell, all by Steven Brust – I just talked about To Reign In Hell a while back.
Two John Carter of Mars books by Edgar Rice Burroughs
The first two Changewinds books by Jack Chalker
Two Evan Tanner novels by Lawrence Block
Four Bernie Rhodenbarr novels by Lawrence Block
Straight No Chaser by Jack Batten – At the time I bought this, I believe I was just fascinated with the notion of a mystery set in Toronto. This was the first time I'd seen that. Now that there's a whole series set in my little home town, and I've seen lots more Toronto fiction, that seems a lot less fascinating.
Two Dominic Flandry novels by Poul Anderson
Tim Allen's autobiography – I don't know what I was thinking
Two short story collections by Lawrence Block
When The Sacred Ginmill Closes by Lawrence Block – probably my favourite of Block's Matthew Scudder novels, this also got me to buy Dave Van Ronk discs
Two Myth books by Robert Asprin – comic fantasy (it's pretty broad comedy, descending to puns on occasion)
Foundation And Earth by Isaac Asimov – It's been a long time since I read this, but I remember the distinct impression that bringing the Robots and Foundation series together was a big mistake