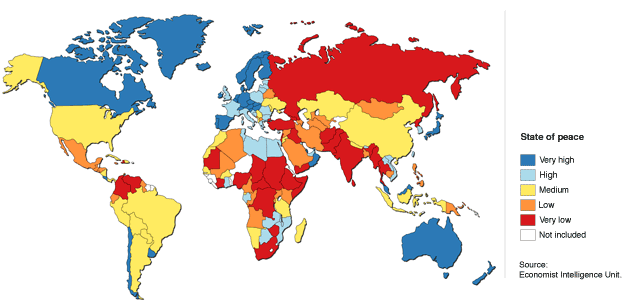 What you're looking at there are the results of the 2009 Global Peace Index. (The full ranking is available online, as are details of the methodology used.)
Canada is #8, and for the third year running is "the most peaceful country in the North and Central America and Caribbean region". That's a kind of exceptional result, especially considering our neighbour, and one I see as positive.
The two most peaceful nations (according to the ranking) from each of nine regions are invited to the Global Symposium of Peaceful Nations. At the symposium an award was presented to the Canadian representative…
Canada has been named one of the most peaceful nations in the world for its support of UN peacekeeping missions, low levels of violent crime and political stability.

The Global Symposium of Peaceful Nations named Canada as the most peaceful country in the North and Central America and Caribbean region and put it eighth place worldwide on its global peace index.

Ambassador Gary Doer accepted the award at the symposium in Washington on Sunday.
That's from the wire service storylet.
Gary Doer, in case you don't recognize the name, is Canada's ambassador to the United States. He's been in that job for not quite two weeks now–something like that symposium must be a nice welcome to the job.
Doer's been involved in other things recently that show off Canada's exceptional nature–like one of the last acts of his ten-year stint as the Premier of Manitoba (leading an NDP government) before taking the ambassadorship: setting aside over 10 million acres of boreal forest for conservation.
That's a part of an overall effort–some grudgingly done federally, much more done provincially–to conserve Canada's boreal forests.
In a series of initiatives, Canadian provincial governments and aboriginal leaders have set aside vast tracts of coniferous woods, wetlands, and peat. The conservation drive bans logging, mining, and oil drilling on some 250m acres – an area more than twice the size of California.
That's from a CommonDreams piece. In addition to Manitoba's 10 million acres it details the rest:
…the Harper government did relent on forest protection, working with the Sahtu and Deh Cho First Nations to set aside 40m acres in the Northwest Territories.

Canadian provincial leaders have moved even more aggressively in recent years, with Ontario committed to protecting 55m acres, or about half of its forest, and Quebec committed to protecting 150m acres.
Another kind of positive exceptional action, I would say.
Unfortunately, it's exceptional in another way–in that Canada, and particularly Harper's Canada, tends to suck on environmental issues more generally. (We're very peaceful about sucking, of course.)
From that same article, a couple of other quotes:
The sheer scale of the forest conservation drive is somewhat of an anomaly for Canada, whose government has been accused of sabotaging the global climate change talks by its development of the Alberta tar sands and its refusal to make deep cuts in its greenhouse gas emissions.

Last week, a former adviser to Barack Obama urged Canada to do more to keep up with America's moves towards a cleaner energy economy.
It's embarrassing to have Americans lecturing us on environmental issues–especially after eight years of Bush. But it's way more embarrassing to have them giving us a well-deserved lecture. Sigh.
That threat appears to have concentrated the official mindset in Canada, which otherwise has a poor record on action on
climate change. On a per capita basis, the country is one of the worst polluters on the planet, producing about 2% of the world's emissions even though it has just 33m people. It holds one of the worst track records among industrialised states for living up to its commitment under the Kyoto accords. By 2007, greenhouse gas emissions were 34% above the target Canada agreed at Kyoto.

Canada's prime minister, Stephen Harper, is resisting doing much more, committing to just a 6% cut over 1990 levels of greenhouse gas emissions by 2020. "I see Harper's policy as a continuation of the Bush agenda," said David Martin, climate director for Greenpeace Canada.
And that's the worst part of it–we're exception here in that after even the Yanks stopped being utterly blind about environmental issues and emissions, etc, we're still doing it. We are continuing Bush's agenda–even after America has started to recover. That's hardly a kind of exceptionalism to be proud of.