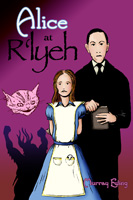 Alice at R'lyeh.
You know you want to go look already
Here's a snippet of Lovecraft and Alice talking to convince you:
"But this monster is merely the mask of what's worse —
"The faceless monstrosity of the cold universe!
"The meaninglessness of our bleak situation
"The smallness of Man amidst dark obfuscation!"

"What you say," ventured Alice, "may be true, in its way,
"Though with 'nonsense' for 'meaninglessness', if I may
"And for 'bleak', I'd put 'curious', for it seems so to me
"That the world's full of wonders, not monstrosity.
It's fun, and the metatext is lovely. Also, a twist ending!