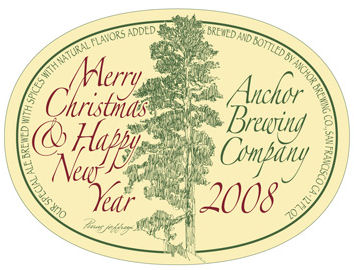 On the recommendations of a friend, I made a trip back to Julio's last night to score a bottle of Anchor's "Our Special Ale", a.k.a. "Christmas Ale 2008".
Actually, when I say "a bottle", what I really mean is "one regular bottle for drinking now, and one magnum for taking home to share with the Boys". (If you download their PDF flyer, you can see the relative size of the magnum, if that's not a size you're familiar with.)
It looks great when poured: a very dark red–almost black, but with the deep ruby translucence that separates a dark ale from a real opaque beer, and with a nice head.
Out of the fridge there is almost no aroma, but as the glass warms the smells open up–a thick vanilla that's almost caramel, and hints of spices.
The beer is quite drinkable–a light mouth feel for something so dark, a lovely initial ale taste with a hint of sweetness, and then a gentle and lingering set of spices. I don't know what spices are really there, but my best guess is some combination of cloves, cinnamon, maybe a bit of ginger, and a bit of oil from orange peel. At the very end, the aftertaste is clove and … something. I want to say "spruce" but that could be the label suggesting things to me.
I had been lead to believe (by a beer-knowledgeable coworker) that the spice would be overpowering–comparisons to the intensity of hops in Dogfish Head's 120 minute IPA were made–but I don't find them so at all. They are noticeable, but not overpowering, and certainly no one would describe the beer as "fragrant" which is often a pejorative when I use it.
This is the best thing so far. I might even need to get another magnum.