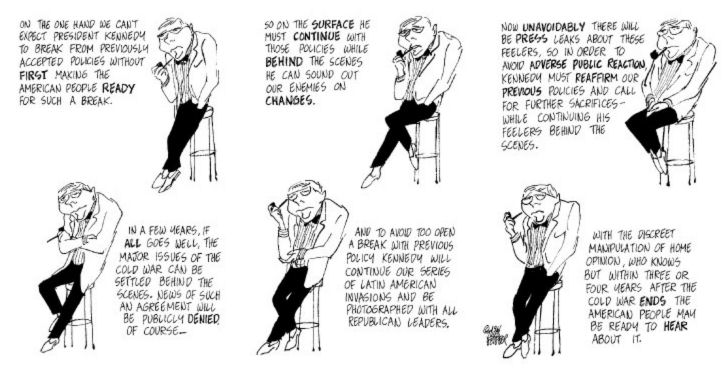 That's a sample page from a book I'm really enjoying reading at the moment: The Explainers by Jules Feiffer. (You can see some other sample pages at The Comics Reporter, or even cooler check out the slideshow on Flickr.)
Here's how the publisher describes the book:
In 1956, a relatively unknown cartoonist by the name of Jules Feiffer started contributing a strip to the only alternative weekly published in the US, a small radical newspaper called The Village Voice. His strip tackled just about every issue, private and public, that affected the sentient American: relationships, sexuality, love, family, parents, children, psychoanalysis, neuroses, presidents, politicians, media, race, class, labor, religiion, foreign policy, war, and one or two other existential questions. It was the first time that the American public had been subjected to a weekly dose of comics that so uncompromisingly and wittily confronted individuals' private fears and society's public transgressions. Explainers is the first of four volumes collecting Feiffer's entire run of weekly strips from The Village Voice. This edition contains approximately 500 strips originally published between 1956 and 1966 in a brick-like landscape hardcover format.
Here's some of what Spurgeon says:
His work of this period is human in an unblinking sense, in that it makes you grapple with weakness and foolhardy macho and shallow befuddlement and never dares nod or wink at the audience in service of some sort of face-saving heroism, some nobility of bearing. Scarily, Feiffer also reminds us that many of these same crippling states of mind were those running the country. It's great to finally read these strips, as uncomfortable as we may be with the reality it defines: the post-War hangover and Cold War flu from which we still have the sniffles today.
So many of these strips are pure gold–perfectly capturing some aspect of life at the time (and in many cases timeless aspects of living). Perhaps even more disturbing to realize how little some of this stuff, especially the social and political stuff has changed.
I read about 20 pages every night in this thing, and at least a couple of times find myself stopping to laugh, or reflect. Everything else aside, you've got to respect the intense distillation of each strip. They're like perfect short short stories; vignettes that capture character and a social moment.
It's actually quite hard to resist just tearing through the whole thing, but I think I'm getting more out of it with the rationing.
You can hear an interview with Feiffer, about the book, here.
I've been vaguely aware of Feiffer for some time–I think I probably first became aware of him more than a decade1 ago, when I noticed the poster2 in Neil Gaiman's3 ground-floor bathroom. I liked the poster enough to do some research on Feiffer, but it never turned into any purchases until recently, when on a whim, I picked up Passionella. I liked that well enough–I wasn't mad for Feiffer or anything, but it was decent.
And that was enough to make me an easy mark for The Explainers, when it came out a couple of weeks ago.
And now The Explainers is so good that I'm going to have to start acquiring all the other Feiffer stuff that Fantagraphics has.
I remember it as having been there from the first time I visited Neil's place, but that was probably 15 years ago now–surely Fantagraphics wouldn't still be selling it after that long? Maybe it came along later and I retro-remembered it.(back)
I always liked that poster. I should totally buy one–$15 is a steal.(back)
KLANG!(back)